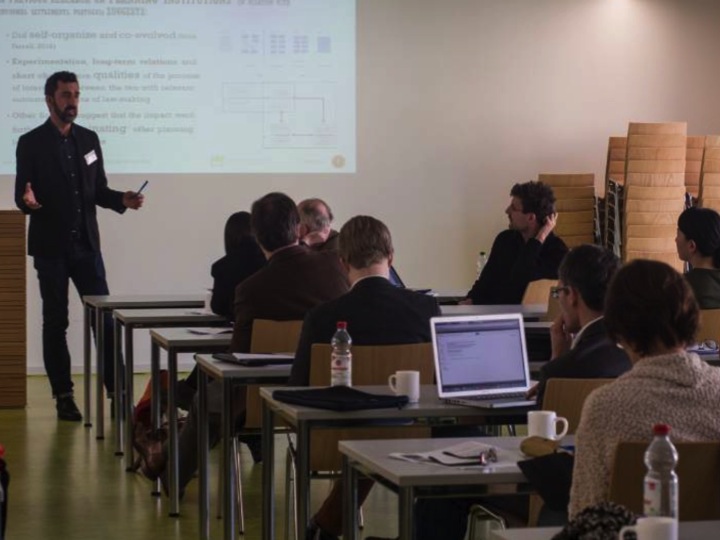 The complexity sciences continue to influence debates, research, and practices in urban planning and governance. Urban systems, e.g. cities and urban regions, can be understood as complex systems, behaving non-linearly and co-evolving with other systems. By now, the number of studies in the realm of the planning and governance of the urban that use concepts and ideas from the complexity sciences has gone up significantly. Naturally, complexity's increasing popularity also attracts criticism. An often voiced criticism, for instance, is that the applications of complexity in urban planning and governance are little more than semantic novelty.
The right response to such criticism is to examine it and to demonstrate that complexity does have utility in the urban planning for the 21st century. Does complexity science live up to its promises? Now that we have been using complexity in planning for quite a while, we ought to be able to answer that question. During this workshop we discussed in particular the following topics:
-   Research methods: what methods are applied in urban planning and governance research and practice? Why are these methods specific to studying complexity? We invite papers that showcase complexity-informed methods and applications.
-   Complexity-friendly governance arrangements: it is easy to claim that certain cooperation in e.g. a project constitutes an innovative governance arrangement. But is that the case? How persistent is that arrangement? And how innovative is the arrangement anyway, given the many institutional experiments carried out over the past decades? What have the complexity sciences really brought new to the field of planning and governance, if anything?
-   Translating complexity to practice: another popular claim is that the complexity sciences, rather than being an intellectual turn, help practitioners to improve their work. How does that work? Does it really produce better results? What is 'better'? And compared to what does complexity science produce better results in urban planning and governance?
-   Information technology and planning: information technology has the promise to delve deeper into the complexities of planning by e.g. enabling popular participation or by visualizing possible consequences of decisions. To what extent are these methods informed by complexity sciences? And do they deliver?
OVERVIEW OF THE PRESENTED PAPERS


Day 1: Thursday, February 11th, 2016
Keynote Speech by Dr. Andreas Duit, Stockholm University, The Sense And Non- Sense Of Complexity Concepts: The Case Of Resilience
Track A: Research Methods
Domenico Camarda & Dario Esposito, Agent-Based Approach For A Complex 
Knowledge Management Framework In Urban Governance
Mary Ganis, A Small World Network Paradigm For Planning Urban Places For 
People: A Case Study Of South Bank, Brisbane, Australia, 1990-2012

Track B: Complexity-Friendly Governance Arrangements
Jack Meek, Constructing Resilience In Complex Metropolitan Systems – Metropolitan Water Management As Complex Adaptive System
Ward Rauws, Navigating Between Control And Spontaneity: An Adaptive Approach To Guiding Urban And Peri-Urban Development
Track C: Translating Complexity to Practice
Sonja Deppisch, Complexity Meets Local Planning Practice And Politics
Lauren Ugur, Between Fidelity And Adaptation. Reflections On The Complexity Of Achieving Broad-Based Integrated Violence Prevention In South Africa
Track D: Information Technology And Planning
Laurent Javaudin, Defining Smartness In The 'Smart City' Concept: A Complexity 
Perspective  
Dilek Unalan, Urban Governance And ITs From Coevolutionary Perspective 

Sharon Wohl & Sean Wittmeyer, The Smartphone As Urban Mediator And 
'Sixth-Sense': A New Platform For Recognizing And Acting Upon The Signals Of 
The City [Discussant: Kuusela/Partanen]
Sharon Zivkovic, Using A Software Tool Informed By Complexity Theory To Address Complex Wicked Problems 
Day 2: Friday, February 12th 2016
Track A: Research Methods
Robin Chang, 'ANT'icipating Complexity In Temporary Use: Two Comparative 
Case Studies In Bremen And Seattle
Ewald de Bruijn & Lasse Gerrits, A Systematic Review And Taxonomy Of Urban 
Self-Organization


Keynote Speech by Mr. Beese, Technical Leader of the Planning Department Bamberg 


Track B: Complexity-Friendly Governance Arrangements
Paulo Silva, What Does Complexity Mean For Planning Institutions?  
Ingmar van Meerkerk & Jurian Edelenbos, Enabling Context For Boundary- 
Spanning Practices Within Complex Urban Governance Networks
Beitske Boonstra, The Art Of Creating Consistency: Planning Strategies In The Age Of Active Citizenship
Track C: Translating Complexity To Practice
Frits Verhees, Spatial Planning Practice Through A Complexity-Theoretical Lens: 
Results From Three Case Studies In The Netherlands  
Alan Mee & Mary Lee Rhodes, Classifying Complexity In Urban Design And 
Governance: The Case Of Ballymun
Kaisu Kuusela & Jenni Partanen, Plenty Of Planning, Scanty Guidance – The 
Case Of Tampere  
 
Track E: Spontaneous Settlements & Divergent Concepts  
Yara Manor-Rosner, Sayfan Borghini & Yodan Rofè, Stigmergy In Informal 
Communities, The Unrecognized Bedouin Villages In The Negev, Israel
Sharon Wohl, Research In Urbanism And Planning Stemming From CAS Theory: 
An Overview Of Divergent Concepts, Frameworks, And Trends
Wrapping Up & Synthesis of the Conference by Dr. Ward Rauws, Coordinator of the AESOP's Thematic Group on Planning & Complexity